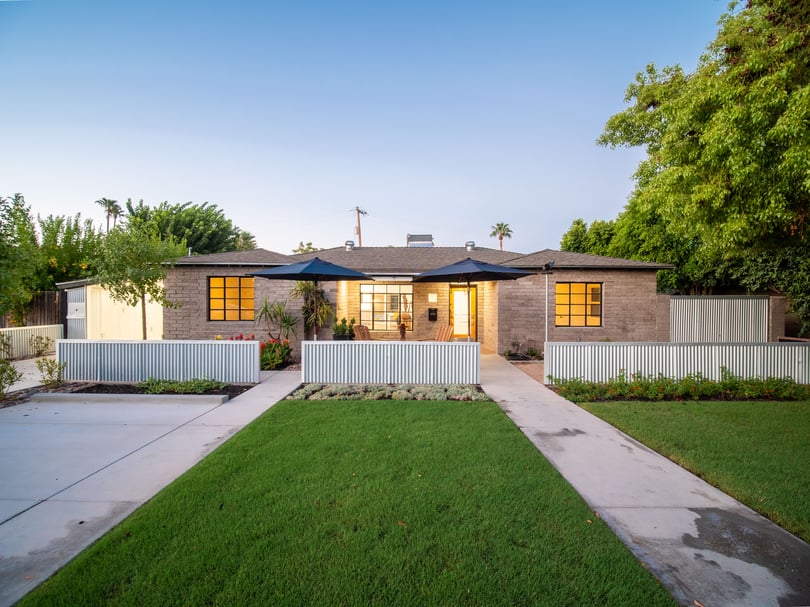 Nestled in the middle of Windsor Square, this HISTORIC 1940s home is within walking distance from your favorite eateries such as Postino's, Windsor and Flower Child. Boasting 2,000 sqft and a split master floor plan this home has been restored from top to bottom. As you walk into the home, you will notice that the entire front yard has been perfectly executed by a renowned landscape architect, to include new sod, concrete, ash trees, plants and galvanized fencing.
The exterior was sandblasted with 20-50 copper slag. Historic Preservation requires we leave the casement windows at the front of the home, every other window is dual pane high efficiency to give a touch of practical modernity. Speaking of practical modernity; this home has a brand new roof, solar system and electric car charging port to power the brand new A/C unit. Our priority in the interior of this home was to keep the open floor plan leading into an open concept kitchen and lots of light to compliment the concrete floors. The space comes to life with two huge windows running the length of the kitchen that look into the backyard and glistening pool. The base cabinets, island top and and appliances are all sleek stainless steel.
The backyard is perfect for entertaining, with a large portion of the 9,000 sqft lot open for all your backyard bbq's and pool parties. The pool is pushing 40,000 gallons and has all new equipment, grey plaster and stunning water feature. Welcome to your brand new Historic home in the heart of Central PHX!

We are here to help homeowners who need or want to sell their home quickly, regardless of the reason. At the same time, we help your neighbors protect their most important asset, their home, by revitalizing or rebuilding your property completely in harmony with the existing neighborhood.