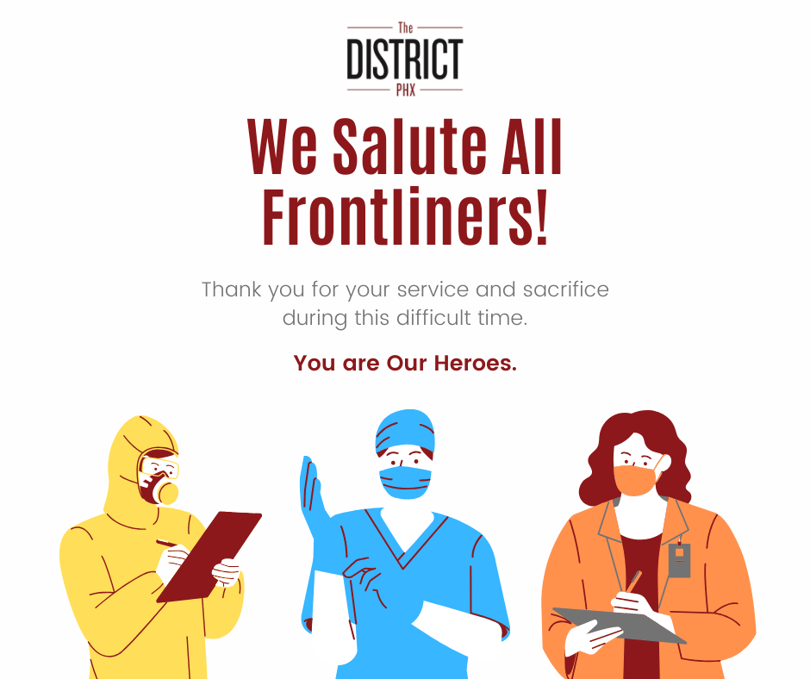 The District PHX Is Operating A Little Differently Right Now, But We're Still Buying Homes
COVID-19 has turned everyone's life upside down. Many of our favorite local businesses are closed down right now and we know that, while it's a difficult time, we are grateful for everyone who is doing their part to flatten the curve.
While our business doesn't look the same as it did a few months ago, we are still buying homes and helping homeowners in and around Phoenix to sell their homes.
Here's how we've adapted to help local homeowners:
Minimizing Contact & Staying Safe
No matter how or why you want to sell your home, our technology allows us to help you sell with just one in-person visit from a single team member.
Our crew is always outfitted with personal protective equipment, including gloves and a mask. They'll take images of the home with a 3D camera which allows us to show the house online or create a fair offer if we are purchasing the home directly.
That means no random foot traffic or visits. Just one appointment with a team member who can maintain a safe distance. Everything else can be done electronically.
Sell & Stay Option
While we've always offered flexible closing options, we've seen a lot of families who aren't comfortable moving right now and we totally understand that. We wouldn't be comfortable scheduling a move right now either. That's why we've added a "Sell & Stay" option for those who want to stay in their home for the short or long-term but can't afford the mortgage.
The District PHX team will create a fair offer for your home. Because no third-party agents are needed, you won't lose up to 6% of the sale to agent commissions. Finally, we're still able to offer flexible closing options, which will be discussed based on your unique needs.
Once we agree on a selling price and closing date, rent is paid up-front with the proceeds from the sale, allowing you to stay in your home without worrying about mortgage payments.
While our team may not be punching the clock in our office, we are here to support our neighbors during this difficult time. If you're interested in learning more about selling your home with The District PHX, we invite you to schedule a no-obligation, no-pressure consultation call.
We'll get through this together. Stay safe and stay healthy.

We are here to help homeowners who need or want to sell their home quickly, regardless of the reason. At the same time, we help your neighbors protect their most important asset, their home, by revitalizing or rebuilding your property completely in harmony with the existing neighborhood.