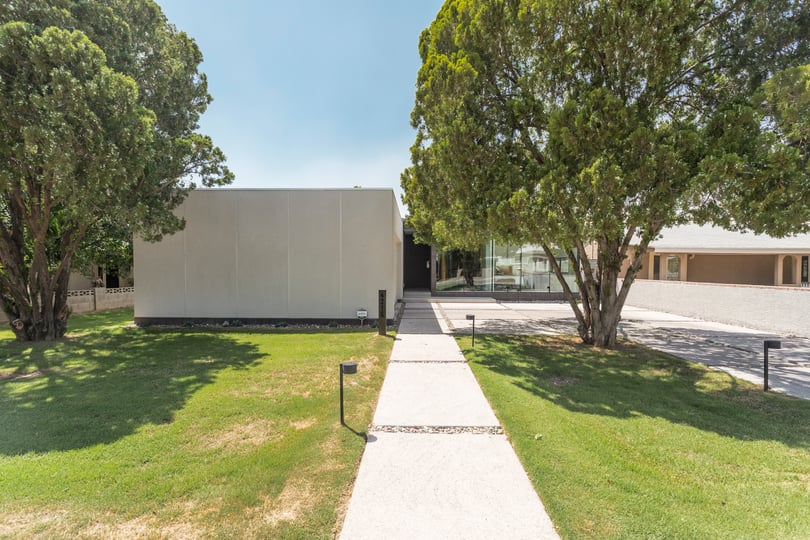 Welcome to one of our new constructions at 4216 North 19th Street here in Phoenix, Arizona. We really made it a point to save the focal points of the landscape during construction by making some minor adjustments. The large trees along the walkway lead you to a wall of glass that frames the entire front of the home. As you walk in, you'll notice the kitchen. We really take pride in professionally designing these kitchens for the maximum functionality. We intentionally designed the kitchen to narrow down the hallways to create a visual line back towards the master bedroom. Further into the home you can see that the bar area is tucked down toward the other side of the kitchen. We designed the living area this way so families could enjoy time together in a space that felt like the center of the home. A pretty unique feature of the flooring in this home is that it's actually the slab of the house!

We added color and aggregate to it, polished it and made it a standout feature. The exterior block is used as the interior block giving a different function to some of these materials. The living area has pocket doors that open all the way up along with the master bedroom, and as you peek through those doors, you see a huge cantilever steel canopy. It gives the house such an amazing pop inside and out, with all the windows open, you really feel like you have a substantially bigger house and a much better space to entertain. Finally, walking into the master bedroom, you'll notice we took time to select a stunning floating cabinet that looks great with the back-lit led mirror. You have a beautiful Jacuzzi style tub that pairs perfectly with the shower and infinity drain. Last but not least, everybody's favorite; a monster walk-in closet decked out with LED lighting. Our aim was to build a highly efficient home, one that fits the neighborhoods in Phoenix. We're proud to be able to give this back to the community.

We are here to help homeowners who need or want to sell their home quickly, regardless of the reason. At the same time, we help your neighbors protect their most important asset, their home, by revitalizing or rebuilding your property completely in harmony with the existing neighborhood.